Ahangama:
Ahangama is the place to be on the south coast of Sri Lanka at the moment with new cafes, restaurants, bars, villas and hotels opening all the time. It's a small town located in the Southern Province of Sri Lanka, known for its beautiful beaches, surfing, and laid-back atmosphere. This town is situated on the southwestern coast of Sri Lanka, approximately 20 kilometers east of Galle, a popular tourist destination.
Ahangama is a haven for surfers, with its consistent waves and ideal conditions for both beginners and experienced surfers. The best time to visit for surfing is between November and April when the waves are at their best. The beaches in Ahangama are also perfect for swimming, sunbathing, and relaxing.
Apart from the beaches, Ahangama also has several other attractions that are worth visiting. The Kataluwa Purvarama Maha Viharaya is a popular Buddhist temple located nearby, the Handunugoda Tea Estate is another must-visit attraction in Ahangama, where visitors can learn about the tea-making process and taste some of the finest teas in Sri Lanka.
Ahangama is also known for its vibrant culture and traditions, which can be seen in the local markets, festivals, and events. The Ahangama New Year Festival, which takes place in April, is a colorful and lively celebration that attracts locals and tourists alike. The festival features traditional dances, music, and food, providing a unique insight into the local culture.
When it comes to accommodation, Ahangama has a range of options to suit all budgets and preferences. From luxury villas like Villa Alba – Ahangama where we stayed recently to budget-friendly guesthouses, there is something for everyone in this town. The local cuisine is also a must-try, with an abundance of seafood, rice and curry, and other Sri Lankan delicacies available in the restaurants and street food stalls.
Overall, Ahangama offers a perfect blend of natural beauty, culture, and adventure. Whether you are a surfer, a foodie, or simply looking for a relaxing beach vacation, Ahangama is the perfect destination to explore.
Villa Alba:
Villa Alba Ahangama is a stunning 5 bedroom luxury villa Nestled discreetly above the paddy fields in the village of Thiththagalla. located in the picturesque coastal town of Ahangama, Sri Lanka. With an elevated position surrounded by lush tropical gardens and the paddy fields beyond, this villa is the perfect retreat for those seeking a peaceful and relaxing holiday.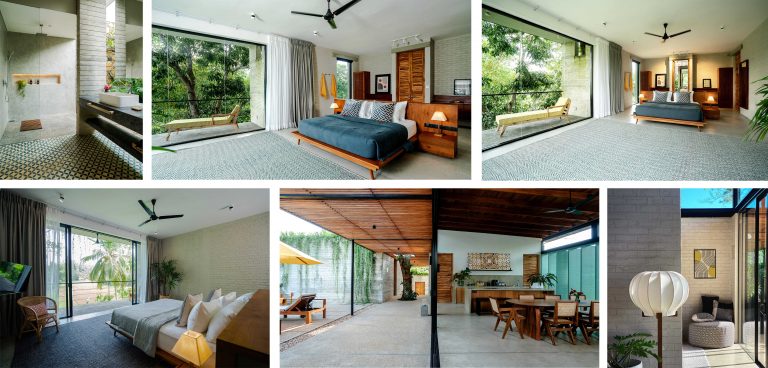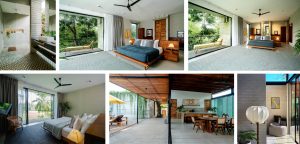 Contemporary architecture and design are surrounded by nature making it the perfect place to relax, decompress and let the expert team look after you.
The main house has a large open plan living area with a breakfast bar, dining area, comfy sofa and a secluded library, all opening out onto the pool deck where you'll find the 40ft pool which overlooks the garden and paddy fields beyond.
On either side of the pool you will find our 5 guest suites all of which have their own unique vantage points, each feeling really quite secluded. We're confident that you'll love to spend time sitting on your balcony looking out for dancing peacocks, swinging langurs or swooping egrets.
One of the standout features of Villa Alba Ahangama is the infinity pool, which appears to merge seamlessly with the paddy fields beyond. The pool is surrounded by a large sun deck with plenty of loungers and umbrellas, making it the perfect spot to soak up the sun and enjoy the stunning surrounding gardens and views.
Villa Alba aims to be relatively low impact, we use solar energy as our primary power source of power whenever possible, most of the fruits and vegetables that you'll eat here are sourced from the garden or the local community. We also have bicycles for guests who'd like to explore the village and beyond – just ask Tharindu to show you around!
Famed for its cinnamon, Thiththagalla is a friendly local village where people can't do enough to make you feel at home. It feels like a really private getaway, but we're located near Ahangama and Kathaluwa, and only 30 mins from Galle in one direction and 30 mins from Mirissa in the other.
One of the highlights of staying at Villa Alba Ahangama is the exceptional service provided by the staff. The villa manager is on hand to ensure that guests have everything they need, and the team of housekeeper, chef, and gardener work tirelessly to keep the villa looking its best and ensure that you have everything that you need.
A hearty breakfast is included in all the rates. Every morning the chef prepares fresh fruits and fresh juice (where possible from the garden), some toast and jam, eggs any style (Sri Lankan omelette, egg hoppers are highly recommended).
The fantastic chef Krishan has created a great food experience with a menu that offers a great selection of local and western dishes – simply select what you'd like the evening before.
Overall, Villa Alba Ahangama is a truly exceptional holiday destination. With its unique location, luxurious amenities and exceptional service, it is the perfect place to unwind and enjoy a truly memorable vacation in Sri Lanka. Whether you're traveling with family or friends, this villa is sure to exceed your expectations and leave you with memories that will last a lifetime.
We truly loved our stay, and are sure that you will too!
To find out more of book directly, use any of the links in their linktr.ee