Distance from Sigiriya – 1.1 km (3 minutes)
Sigiriya also known as "Sinhagiri" or "Lion's Rock" is an ancient rock fortress situated in Sigiriya town near the town of Dambulla in the Central Province of Sri Lanka. Sigiriya rock is about 200 meters in height and is a UNESCO listed World Heritage Site. The rock has great historical and archaeological significance and is widely known as the eighth wonder of the world.
Sigiriya Rock was used by the ancient King Kashyapa as his Royal Palace. The king used it as a hideout and a way of protecting himself and his kingdom from enemies. Sigiriya Rock is one of the best preserved examples of ancient urban planning.
Sigiriya Rock consists of many parts as a royal palace complex. These include the following;
Frescoes – Paintings on a large wall area on the rock. These paintings are of women with flowers in their hands and some say that these women were the wives of the king.
Mirror Wall – Originally this wall was a highly polished area in which the king could see himself as if from a mirror. At present the wall is scribbles with poems and verses left by visitors of the rock.
Gardens – The Sigiriya Rock consists of various types of gardens such as water gardens, boulder gardens and terraced gardens which were part of the Royal Palace. These gardens extend from the ground area up to the top of the rock.
Lion's Paw – Half way up the rock is an entrance with the sculpture of lion paws. This marks the grand entrance to many of the features of the Sigiriya Rock including the Sigiriya frescoes, mirror wall and the gardens on the top of the rock.
Cobra Hood Cave – The Cobra Hood Cave is a rocky projection which represents the open hood of a cobra and is located down in the Boulder Garden of the Sigiriya Rock. Visitors generally pass this cave after descending the rock on their way to the south gate and the car park.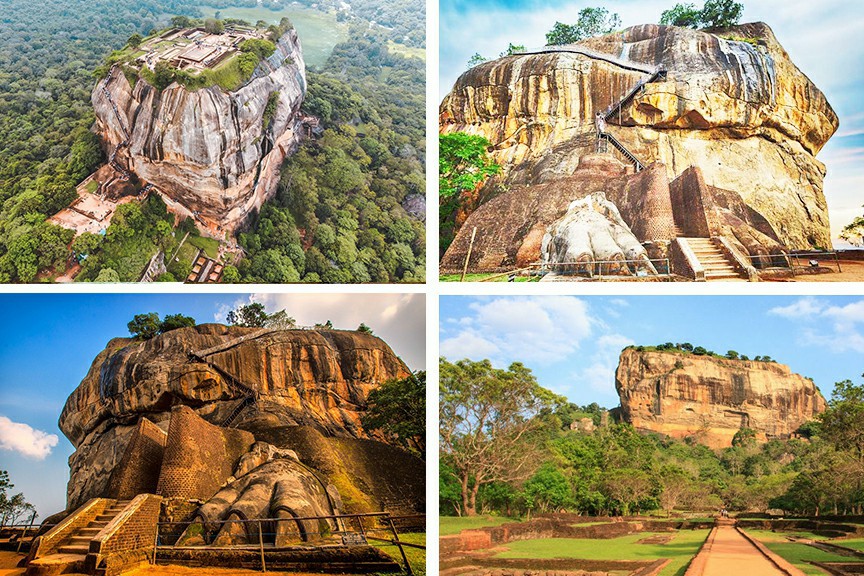 Getting to Sigiriya Rock
From Sigiriya go about 1.1 km down Sigiriya Road to find the Sigiriya Rock.
Google Location