Distance from Ella – 31.1 km (1 hour 17 minutes)
Introduction to Poonagala
Pilkington Point is a picturesque viewpoint situated along Poonagala Road in Bandarawela. It is part of the Poonagala Hills which consists of a range of low lying mountain peaks in central Sri Lanka. There are many attractions that are part of the Poonagala Hills. These are Pilkington Point, Millenium Point, Dambathenna Tea Estate, Lipton's Seat, St. Catherine's Seat and Diyaluma Falls.
Pilkington Point (Poonagala Viewpoint)
Pilkington Point got its name in 1898 from the first manager of the Poonagala Company, Sir George Pilkington. The scenic viewpoint stands 1400 m above sea level. The trek to reach Pilkington Point consists of a one-hour walk up a trail off the Bandarawela – Koslanda Road. If driving, it takes just a few minutes to get there. This point provides view of Monaragala district, Hambantota district, Ratnapura district, Wellawaya, Kataragama Kirivehera, Udawalawe and Embilipitiya.
Millenium Point
Millenium Point can be reached by moving upwards from Pilkington Point. It takes about 45 minutes to reach this point from foot. It is not advised to drive to this point due to the narrow trail and sharp slopes. This viewpoint provides amazing 360 degree views of the surrounding landscape including the locations that can be seen from Pilkington Point. In fact, it provides an even better view than from Pilkington Point. There are elephants and boars roaming in this area.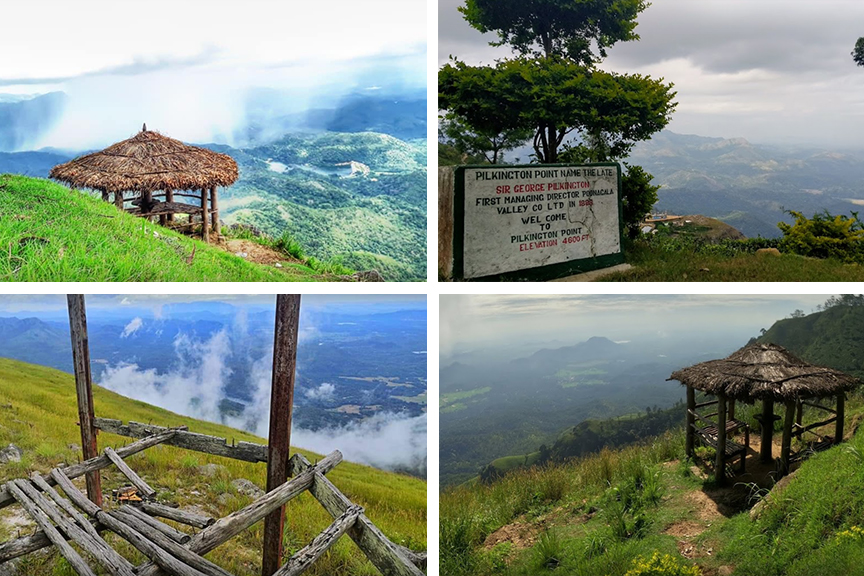 Getting to Pilkington Point (Poonagala Viewpoint)
From Ella travel along the Wellawaya – Ella – Kumbalwela Highway, Welithenna Road and Bandarawela – Poonagala – Koslanda Road passing Makulella and Liyangahawela to reach the Pilkington Point which is situated along Poonagala Road in Bandarawela.
Google Location