Distance from Sigiriya – 18.4 km (23 minutes)
Introduction to Minneriya National Park
Minneriya National Park is a national park situated in the North Central Province of Sri Lanka. It was designated as a national park on 12th August 1997 while originally being declared as a wildlife sanctuary in 1938. The Minneriya National Park is a dry season feeding ground for the elephant population dwelling in forests of the districts of Matale, Polonnaruwa and Trincomalee.
Importance of Minneriya National Park
The reason for declaring the area as protected is due to the Minneriya tank and the wildlife of the area. The Minneriya tank bears historical importance because it was built by King Mahasen in third century AD. The Minneriya along with Kaudulla and Girithale forms one of the 70 Important Bird Areas (IBAs) of Sri Lanka. The park is governed by the Department of Wildlife Conservation in Sri Lanka.
Faunal species of Minneriya National Park
Minneriya National Park is home to a wide variety of flora, fauna and many species of birds, reptiles and mammals, especially elephants. The park includes 24 species of mammals, 160 species of birds, 25 species of reptiles, 26 species of fish, 9 species of amphibians and 75 species of butterflies.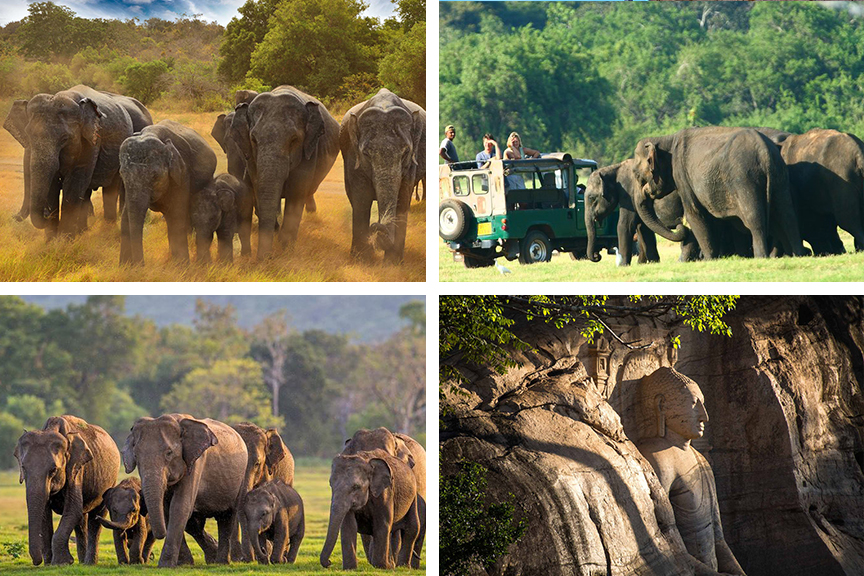 Getting to Minneriya National Park
From Sigiriya take the Sigiriya Road and go past Moragaswewa. At Moragaswewa junction turn to Maradankadawala-Habarana-Thirukkondaiadimadu Highway and travel on this route for about 6 km to reach the Minneriya National Park.
Google Location