Distance from Nuwara Eliya – 70.8 km (2 hours 16 minutes)
Laxapana Fall is situated in Maskeliya town of the Nuwara Eliya district. Standing at a massive height of 126 meters, it is the 8th highest waterfall in Sri Lanka and the 625th highest waterfall in the world. According to folk tales this is the place where Lord Buddha mended his saffron robe when visiting Sri Pada. The name of the fall is derived from the words "Laxa" which means hundred thousand and "Pahana" which means rock. It is a reference to how that many lamps could be lighted from the power generated using the water from this waterfall.
Laxapana waterfall is situated along the Maskeliya-Norton Bridge Road in a village named Kiriwan Eliya. It gives its name to two hydroelectric power stations namely Old Laxapana Power Station and New Laxapana Power Station. The Laxapana Waterfall is formed by the Maskeliya Oya which is a tributary to the Kelani River. It is quite a difficult waterfall to hike and caution should be taken when taking a dip in the natural pools in the area due to the flow of the water.
Getting to Laxapana Falls
From Nuwara Eliya travel along the Avissawella – Hatton – Nuwara Eliya Highway and the Norton – Maskeliya Road passing Nanuoya, Talawakelle, Kotagala, Hatton and Watawala up to Maskeliya to reach the Laxapana Falls situated in Maskeliya.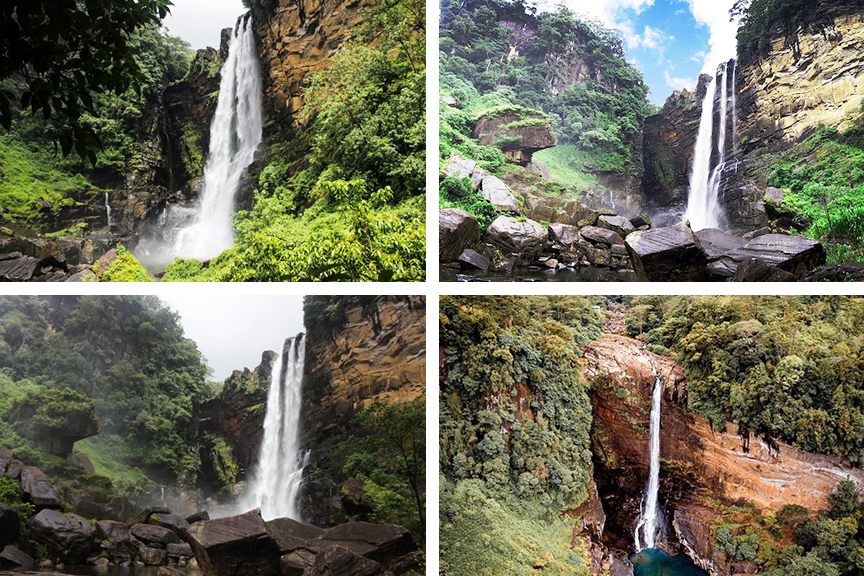 Google Location