Distance from Sigiriya – 21.7 km (30 minutes)
Introduction to Ibbankatuwa Megalithic Tombs
Ibbankatuwa Megalithic Tombs is an ancient burial site located near the Ibbankatuwa Wewa (River) in Galewala in the Central Province of Sri Lanka. It is situated on the Kurunegala – Dambulla Road about 5 kilometers away from the Dambulla town. The site of the tomb has been designated as an archaeological protected site in Sri Lanka.
History of Ibbankatuwa Megalithic Tombs
The tomb site is believed to belong to the megalithic prehistoric period of Sri Lanka and is considered as one of the several ancient burial sites that have been found in the island. It is also one of the largest of these types of tombs found in Sri Lanka being as large as 700 m X 400 m. Located adjacent to the tombs, in an area named Polwatta, are ruins of buildings and tombs belonging to an ancient civilization of the prehistoric iron period. It is the first time that such ruins belonging to prehistoric eras have been identified together.
Parts of Ibbankatuwa Megalithic Tombs
More than 100 tombs of this type have been identified from all types of environment zones in Sri Lanka. The tombs are divided into two sections.
1. A monument built in memory of the deceased.
2. The ashes of the deceased buried with things he or she used while still alive.
In 2015, as a result of the work conducted by the Central Cultural Fund, 47 tombs of the size 10 m X 10 m were found, out of which 26 were "Shila Manjusa" tombs.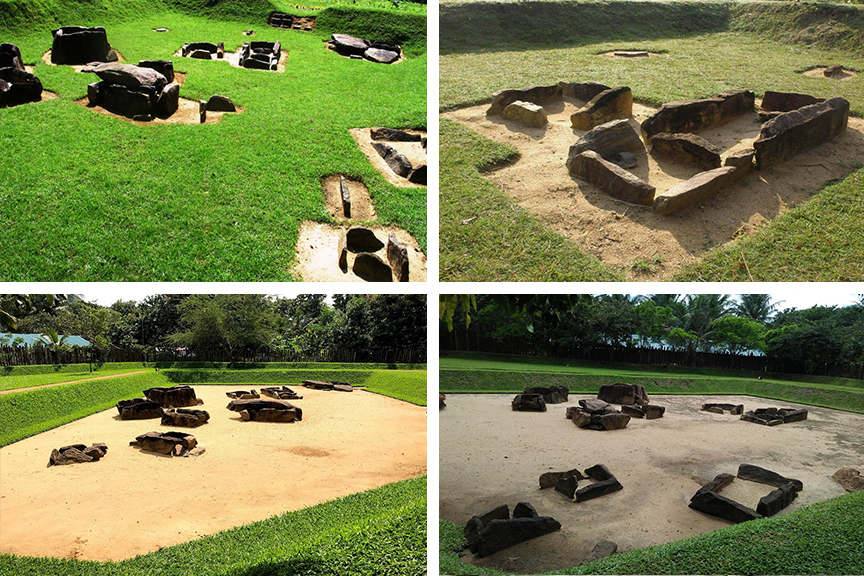 Getting to Ibbankatuwa Megalithic Tombs
From Sigiriya take the Inamaluwa – Sigiriya Road and go past Kimbissa and Inamaluwa. Then turn to the Kandy Road and go past Dambulla town until you reach Ibbankatuwa to find the Ibbankatuwa Megalithic Tombs.
Google Location