Distance from Polonnaruwa – 46.0 km (1 hour 12 minutes)
Introduction to Danigala Circular Rock
Danigala Circular Rock is a unique shaped rock situated near Aralaganwila in the Polonnaruwa district. Ariel views of the rock show a unique semi-circular shape of it. There have been news of UFO sightings and alien activities in this area which gives it the name "Alien Mountain".
Features of Danigala Circular Rock
There is a peculiar form of vegetation surrounding the Danigala Circular Rock which makes it suspicious for alien activity. The rock also has a temple and many caves in the surrounding area. One such cave consists of a large reclining Buddha statue which is similar to the one found at Pidurangala. This Buddha image made of brick and stucco is said to be 38.9 feet in length but has been vandalized by treasure hunters.
Peculiarity of Danigala Circular Rock
The rounded track on top of Danigala does not seem to be man-made. Locals believe of alien activity in this area due to the peculiar features of Danigala. Danigala is known in the names "Alien Mountain", "Kandegama Rock" and "Star Gate of King Ravana". It is believed to be one of the places where King Ravana landed his special aircraft, "Dandu Monara".
Caves in the area
A total of 70 caves have been found in this area. These caves date as early as the 2nd century. The place is often accessed by wild elephants from the surrounding areas. Many inscriptions have been carved on the rock here and one such inscription mentions King Saddatissa and his son. The inscriptions also mention the many donors of the caves.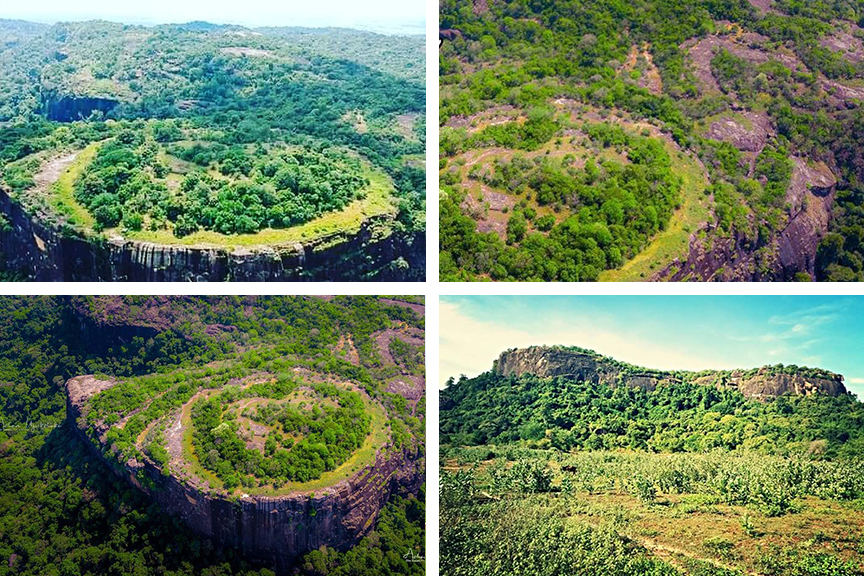 Getting to Danigala Circular Rock
From Polonnaruwa travel along the Maradankadawala-Habarana-Thirukkondaiadimadu Highway and then along the Manampitiya-Aralaganwila-Maduru Oya Road up to Aralaganwila to reach the Danigala Circular Rock.
Google Location