Distance from Sigiriya – 18.7 km (29 minutes)
Dambulla Royal Cave Temple (Rangiri Dambulu Temple) is a Buddhist temple situated in Dambulla in the Central Province of Sri Lanka. It is a world heritage site and is also known as the Golden Temple of Dambulla. Dambulla Royal Cave Temple is the largest and best-preserved cave temple complex in Sri Lanka. The rock of the cave temple towers 160 m over the surrounding plains.
There are over 80 documented caves in the surrounding area while the major attractions are spread over five caves, which contain statues and paintings. The paintings of the Dambulla Royal Cave Temple represents the Lord Buddha and his life. There are about 153 Buddha statues in total and also statues of Sri Lankan kings and gods and goddesses including Gods Vishnu and Ganesha.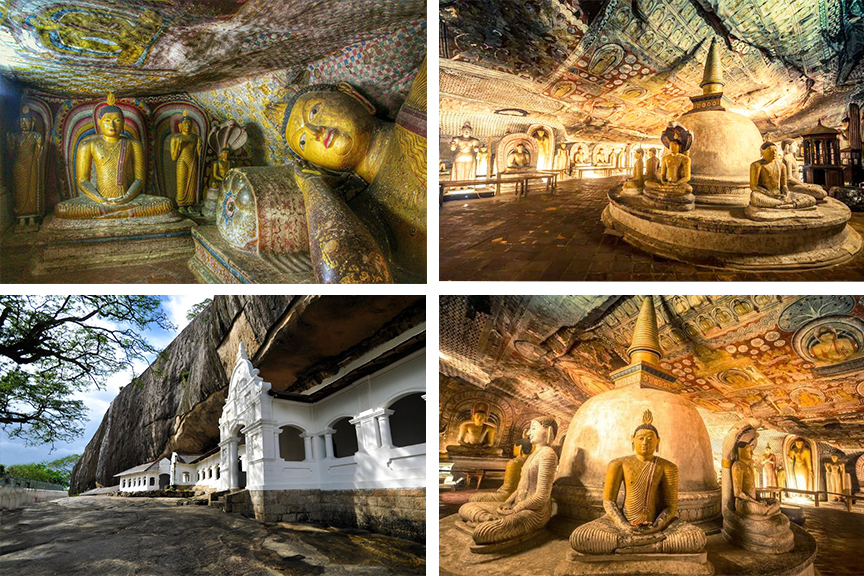 Getting to Dambulla Royal Cave Temple
From Sigiriya take the Inamaluwa – Sigiriya Road and go past Kimbissa up until you reach Inamaluwa. From Inamaluwa take the Kandy Road up to Dambulla. From Dambulla go about 3 km down the Kandy Road to find the Dambulla Royal Cave Temple.
Google Location