Distance from Anuradhapura – 72.7 km (1 hour 34 minutes)
Introduction to Yapahuwa Rock Fortress
Yapahuwa Rock Fortress is situated in Mahawa, in between Kurunegala and Anuradhapura. Yapahuwa served as one of the capitals of the ancient Sri Lankan kingdom, in the latter part of the 13th century. It was built around a massive granite rock which rises about 90 meters from ground level.
History of Yapahuwa Rock Fortress
The fortress was built by King Buvanekabahu in the year 1273. It served as a palace and military fortress against foreign invaders, especially Dravidians from neighbouring India. The rock fortress consists of traces of ancient battles.
Ruins of Yapahuwa Rock Fortress
The fortress was built with a height of 4 m and a width of 22 m. It consists of a rampart and a moat.
Many ancient ruins of the fortress can be seen up to this date. This includes the intricately carved Yapahuwa staircase, the lion stone sculpture, ruins of a stupa, Buddha statues and Kandyan era paintings. An image of the lion stone sculpture appears on the former ten-rupee note. The stone staircase is elaborately carved and is a highlighted feature of Yapahuwa. It connects to the walkway which leads to where the Tooth Relic Temple once existed. Top of the rock provide 360 degree views of the surrounding area.
At the foot of the rock, a cave temple exists with 13th century frescoes. It also consists Buddha statues made from bronze and wood. There are 40 caves at Yapahuwa out of which 25 are with drip-ledges where inscriptions can be found.
Tooth Relic Temple at Yapahuwa Rock Fortress
The temple was constructed at the Yapahuwa Rock Fortress to keep the Tooth Relic which was brought all the way from Dambadeniya. The Tooth Relic Temple was built at the top of the third staircase. However, the Pandyas managed to capture the relics and carry them away to South India. These relics were recovered by King Parakkramabahu III in 1288 and placed safely in Polonnaruwa.
Museum at Yapahuwa Rock Fortress
A small museum exists at the bottom of the Yapahuwa rock. Stone sculptures of Vishnu and Kali and coins indicating trade connections with countries such as China are on display at the museum.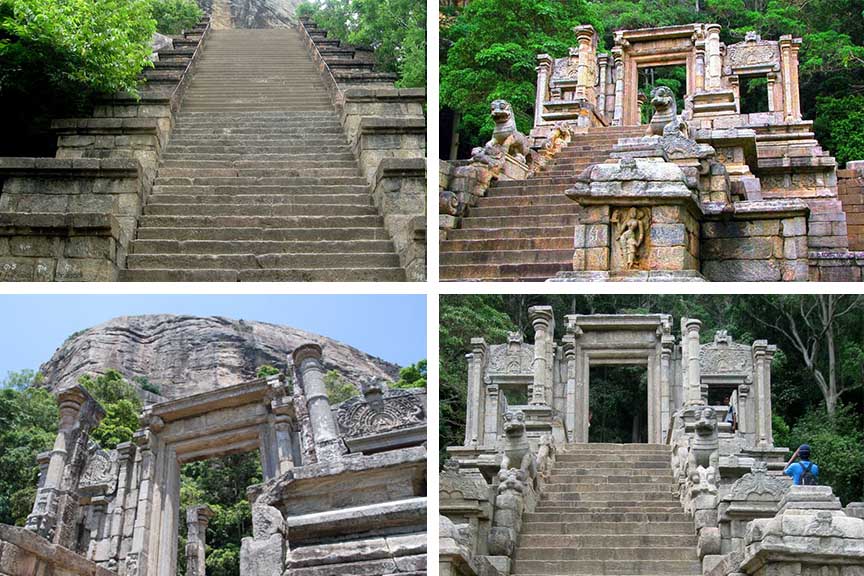 Getting to Yapahuwa Rock Fortress
From Anuradhapura travel along the Anuradhapura-Padeniya Highway and the Nikaweratiya-Maho Road passing Talawa, Galgamuwa and Ambanpola to reach the Yapahuwa Rock Fortress.
Google Location