Distance from Kandy – 60.2 km (1 hour 44 minutes)
Introduction to Yahangala
Yahangala is a hiking area which is situated in the central highlands of the island. It is the rock where the great King Ravana was laid to rest after he lost the battle to Lord Rama and was finally killed by the latter. 'Yahangala' means 'bed rock' in Sinhala and all the king's countrymen came to pay their last respects to their great king. The king's body is said to be hidden on the left side of Yahangala. Hike to Yahangala is by no means an easy task. Yahangala is also believed to be protected by the local god "Galē Bandāra".
Hike to Yahangala
The climb to Yahangala starts from the right side of the mountain along the Velangolla Pathana which leads to the mountain from its rear side. Although the other route is much shorter the hike is more difficult because of the large number of boulders found along the path. Hikers should be aware of elephants which are commonly sighted along the route to Yahangala. Hikers should also carry bottles of water as they tend to get very thirsty along the way. Many people tend to cut short the hike due to lack of water which makes it impossible to continue the journey.
Summit of Yahangala
The top of Yahangala spans a large flat area. No large trees are visible in the area, which villagers believe to be one of the miracles of Yahangala. The spot is ideal for camping and also provides stunning 360 degree views of the surrounding vistas. Velangolla Pathana, Kehelpathdoruwa and Mahaweli River are clearly visible from the summit.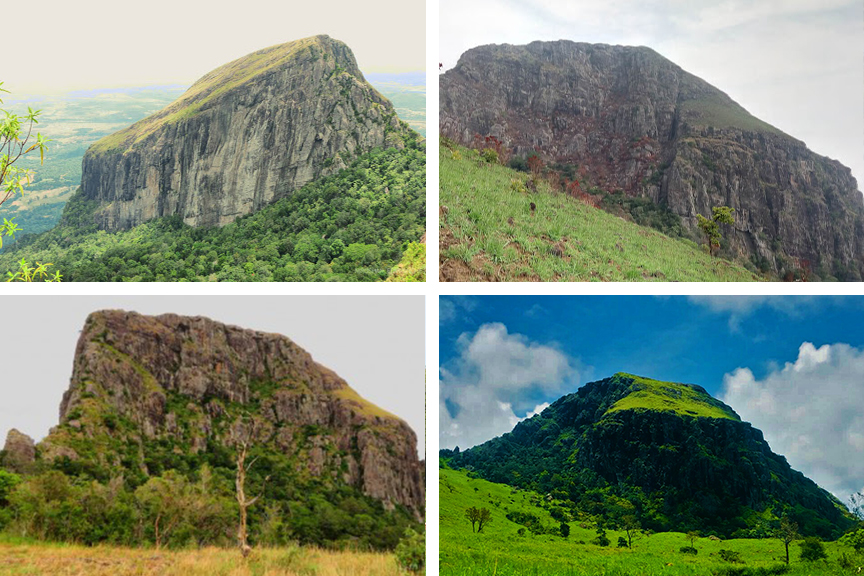 Getting to Yahangala
From Kandy travel along the Kandy-Mahiyangane-Padiyatalawa Highway passing Tennekumbura, Pallekele, Digana, Teldeniya, Rambukwella, Hunnasgiriya and Ududumbara up to Kalugala to reach Yahangala.
Google Location