Distance from Anuradhapura – 6.6 km (13 minutes)
Introduction to Thuparamaya
Thuparamaya is a Buddhist temple which is situated in the ancient historic city of Anuradhapura. It is renowned as the first Buddhist temple in Sri Lanka. Thuparamaya was built by King Devanampiyatissa during his reign from 247 – 207 BC. Situated within the sacred Mahamevnawa Gardens, Thuparamaya has been recognised as an archaeological site by the Government of Sri Lanka. It belongs to the "Atamasthana" of Anuradhapura.
History of Thuparamaya
Mihindu Thero, son of King Ashoka the great Emperor of India, introduced Buddhism to Sri Lanka during the reign of King Devanampiyatissa. King Devanampiyatissa built Thuparamaya where he enshrined the right collar-bone of Lord Buddha. The name "Thuparamaya" literally translates to "Stupa" and "Aaramaya", the latter of which is a housing complex for Buddhist monks.
Structure of Thuparamaya
Thuparamaya has a shape of a bell. There are two rows of stone pillars surrounding the stupa. The temple surroundings show signs of a vatadage which was built around it back in the day. Thuparamaya has been renovated several times over the centuries.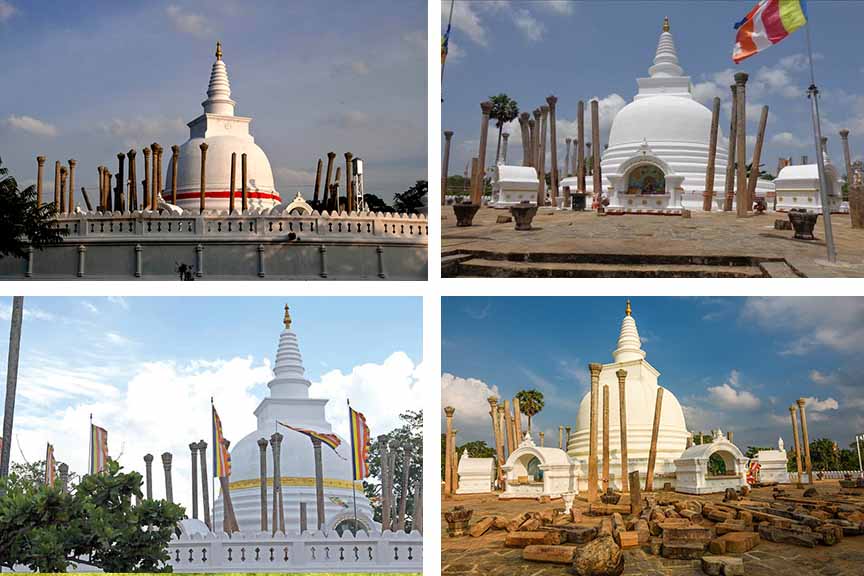 Getting to Thuparamaya
From Anuradhapura travel along the Puttalam – Anuradhapura – Trincomalee Highway and turn to New Elkatuwa Road to reach the Thuparamaya which is situated along Thuparama Mawatha in Anuradhapura.
Google Location