Distance from Galle – 11.2 km (21 minutes)
Thalpe Beach
Thalpe Beach is a beach situated in the Southern province of Sri Lanka, close to the city of Galle. It is a popular destination among both locals and foreigners. There are vibrant shops, restaurant and various water sports related activities to do in the surrounding area of Thalpe.
Beauty of Thalpe and the Thalpe Beach
Thalpe is a quiet town nestled away from the hustle and bustle of the major towns situated in the southern coastal belt. Thalpe town is filled with history, adventure, culture and cuisine along with the Thalpe Beach which is a relatively clean and calm beach. Stilt fishermen are commonly seen in this coastal town and it is a great way to learn more about the way of life in this beautiful coastal town.
According to the villagers the rock pools were cut out of the corals around 50 years ago and was used to soak coconut husks in order to separate the coconut coir.
rock pool beach best time to visit is early morning from March to April. At other times the pools are filled with sand.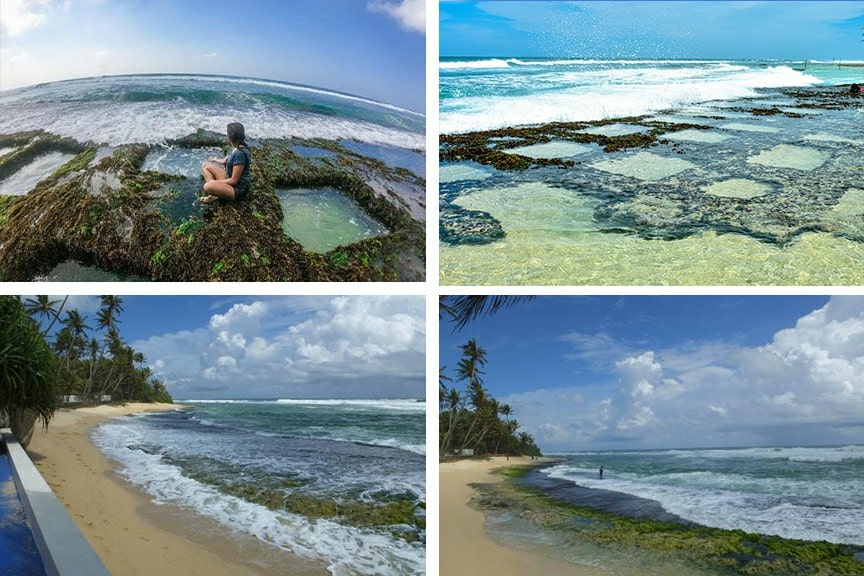 Getting to Thalpe Beach
From Galle travel along the Matara Road for approximately 11.2 km to reach Thalpe where the Thalpe Beach is situated.
Google Location