Sri Dalada Maligawa
Distance from Kandy – 850 m (3 minutes)
The Temple of the Tooth Relic is an important historic and religious site in Sri Lanka. This golden-roofed temple hosts the tooth of the Buddha, an important Buddhist relic. The tooth relic is kept inside a golden casket in the shape of a Stupa (Buddhist temple). The temple is located in the royal palace complex and is a reason for Kandy being a UNESCO world heritage site. The site lies in Sri Dalada Veediya in the heart of the Kandy town.
The temple of the Tooth Relic also known as Sri Dalada Maligawa consists of many buildings and structures. These include the Royal Palace, Audience Hall or Magul Maduwa and the Mahamaluwa. The Tooth Relic was initially placed in the three-storied shrine built by King Wimaladharmasuriya I near his royal palace. The Temple of the Tooth Relic has since being renovated a few times.
The golden canopy over the main shrine of the Temple of the Tooth Relic was built in 1987 by the then Prime Minister Ranasinghe Premadasa. The holy temple sustained damage from bombings both by Janatha Vimukthi Peramuna in 1989 and by Liberation Tigers of Tamil Eelam in 1998. However, it was fully restored each time.
Getting to the Temple of the Tooth Relic
From Kandy go down William Gopallawa Mawatha and then continue along the Kandy-Jaffna Highway. Turn to Sri Dalada Veediya to reach the Temple of the Tooth Relic.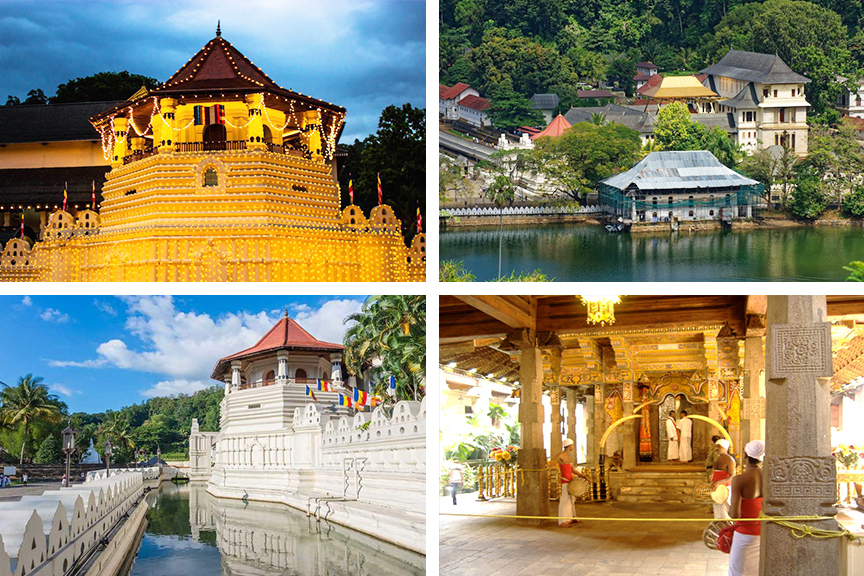 Google Location