Distance from Anuradhapura – 6.2 km (13 minutes)
Introduction to Ruwanweli Maha Seya
Ruwanweli Maha Seya is a prominent Buddhist stupa situated in the ancient historic city of Anuradhapura. It was built by King Dutugemunu in 2nd century BC. It is regarded as a highly sacred and important religious site by Buddhists from around the world. Ruwanweli Maha Seya is also known by the names of "Swarnamali Chaitya", "Rathnamali Chaitya" and "Mahathupa". It belongs to the "Atamasthana" of Anuradhapura. It stands along with the Jaya Sri Maha Bodhi, as one of the oldest and most sacred sites for Buddhists.
Religious importance of Ruwanweli Maha Seya
Ruwanweli Maha Seya is believed to contain the largest collection of relics (two quarts) of the Buddha, from all over the world. Being one of the greatest architectural structures of the era and even up to date, the stupa resembles a bubble of milk. A massive white structure, Ruwanweli Maha Seya is designed according to the teachings of Lord Buddha. Its massive structure resembles the Four Noble Truths whereas the rings represent the Noble Eightfold Path. The pinnacle at the top of the stupa, made of crystal, represents the ultimate goal of Buddhism which is enlightenment.
Colossal Structure of Ruwanweli Maha Seya
Ruwanweli Maha Seya is one of the world's tallest ancient structures standing at a height of approximately 103 m and with a circumference of 290 m. Consequently it stands among the top in the list largest stupa in Sri Lanka. However, its initial height was 55 m prior to being renovated quite a few times in history.
Building the Ruwanweli Seya
During the reign of King Devanampiaytissa, Arahath Mahinda prophesied that a great stupa would be built at a destined site in Anuradhapura by none other than the king's grandson himself. The king engraved this prophecy in a pillar and buried it in the destined place. A century later the pillar was found by the King Dutugemunu who started constructing the great stupa. The king had adorned the stupa with many gems and various statues made of gold.
Sadly, King Dutugemunu did not live to see the completion of the Ruwanweli Maha Seya. On his deathbed, he insisted his brother Kavantissa to show him the completed stupa. The latter covered the stupa with cloth and showed the king the stupa which appeared to have been completely built, in the king's eyes. King Dutugemunu died in peace knowing that the great task assigned to him was completed. His brother Kavantissa, who succeeded him to the throne, completed the Ruwanweli Maha Seya, in due course.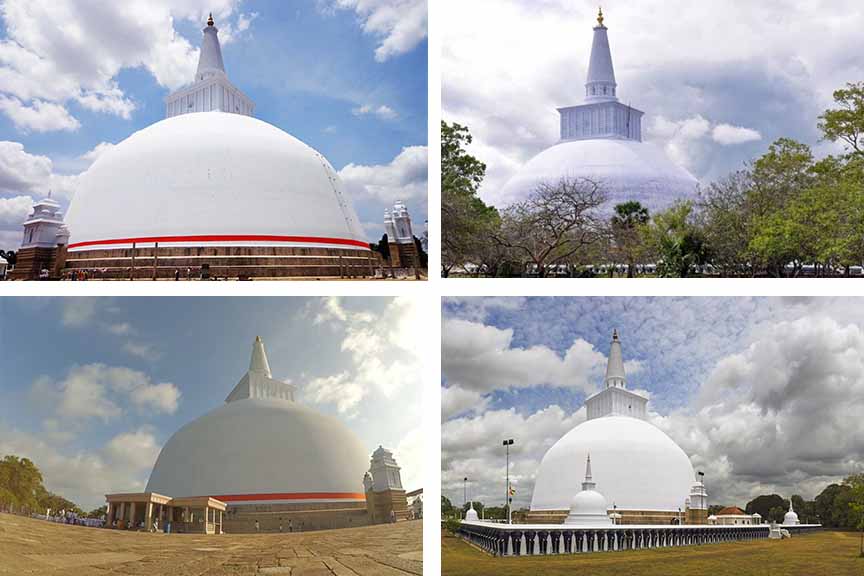 Getting to Ruwanweli Maha Seya
From Anuradhapura travel along the Puttalam – Anuradhapura – Trincomalee Highway and New Elkatuwa Road to reach the Ruwanweli Maha Seya which is situated along Abhayawewa Road in Anuradhapura.
Google Location