Distance from Trinco – 109 km (2 hours 9 minutes)
Beauty of Pasikuda Beach
Pasikuda Beach is situated in Pasikuda in the Eastern part of Sri Lanka. It is a palm-fringed sandy beach with turquoise blue waters in a bay backed by resorts with an offshore reef. Pasikuda Beach is a beautiful location to view the amazing sunset in all its glory. The turquoise blue waters of Pasikuda attracts many tourists and it is a popular area for swimming and surfing.
Activities to do at Pasikuda Beach
Pasikuda means "green algae bay" and it is indeed such a beach with beautifully hued calm waters. This is a reason the Pasikuda beach attracts many locals and tourists. It is a great beach to surf, swim or stroll around. Some of the activities included here are kite surfing, boogie boarding and surfing and sailing across in a canoe. The shores are adorned by coconut palms and palmyrah trees which is a beautiful sight to see.
Getting to Pasikuda Beach
From Trinco take the Trincomalee Highway and go past Clappenburg, Kinniya, Mutur, Seruwawila, Serunuwara, Verugal, Vakarai and Mankerni up until Pasikuda. Go down Pasikuda Road to reach the Pasikuda Beach.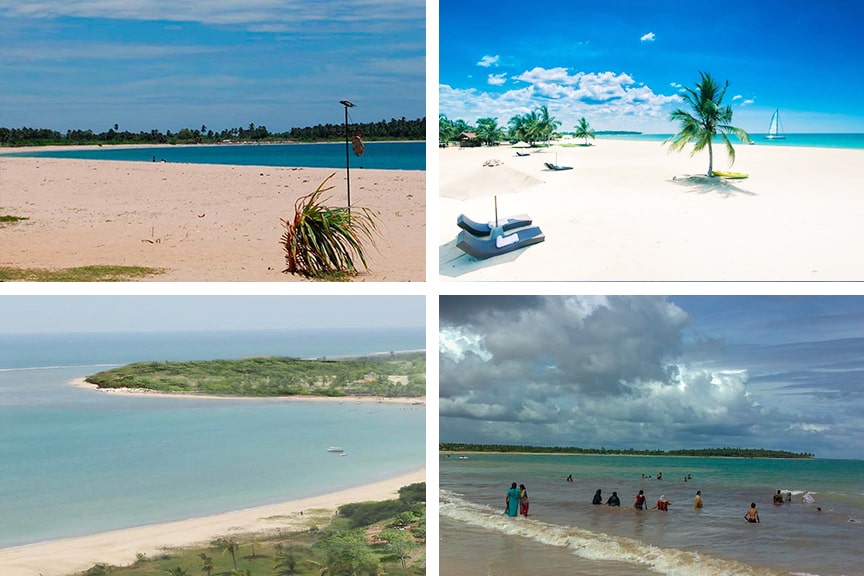 Google Location