Distance from Hikkaduwa – 3.9 km (7 minutes)
Narigama Beach is a surfer's paradise situated in Hikkaduwa. It is a beautiful beach in which the waves are ideal for surfing. It is a long and golden sandy beach great for walking while feeling the fine sands under the feet. There are also a considerable number of bars and restaurants in the area. It is the ideal place to be in for amazing views of sunset, beach bars & surfing waves. The surfing season at Narigama Beach is from April to October.
While Hikkaduwa in general attracts surfers, the Narigama Beach attracts mostly couples and matured tourists, mainly Russian and German Nationals who seek for a quiet and less crowded beach to relax. The temperature of the water in the sea is perfect; warm but not too hot.
The Narigama beach extends for 3 – 4 kilometers towards the south, in a broad and continuous stream of sand. Narigama Beach is one of the best places to view the magical sunset in Hikkaduwa. It is indeed a beautiful sight to see and one not to miss. There are many guesthouses and boutique hotels lined up along the beach where guests can stay overnight or extended days during their travels. Accommodation along the beach could be expensive so it is better to walk a bit further and find accommodation at modest prices.
Narigama Beach stands among the best beaches in not only Hikkaduwa area but also in the Southern peninsula. The waves are ideal for surfers from beginners to experts. It is also a popular area for beach parties and is always lively and vibrant.
Getting to Narigama Beach
From Hikkaduwa take the Colombo – Galle Road and travel about 4 km to find the Narigama Beach.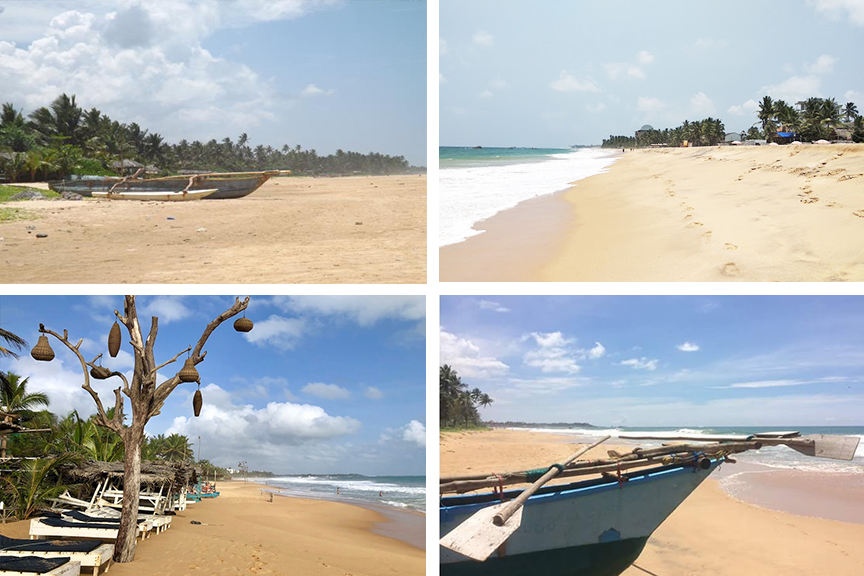 Google Location