Distance from Anuradhapura – 5.3 km (10 minutes)
Introduction to Mirisawetiya Stupa
Mirisawetiya Stupa is situated along Old Puttalam Road in Anuradhapura. It was built by King Dutugemunu during his reign from 161 BC to 137 BC. The initial structure of Mirisawetiya, which is believed to be one of the most ancient dagabas in Sri Lanka, is not there anymore. It was restored in the 20th century with a height of 59 m and a diameter of 141 m. According to a British scholar who examined Mirisawetiya in the late 19th century, the height of the original stupa was 51 m and its diameter was 61 m. Prior to restoration, the Mirisawetiya had one of the finest vahalkadas in ancient Sri Lankan history. Mirisawetiya Stupa belongs to the "Atamasthana" of Anuradhapura.
Story behind the name "Mirisawetiya"
There are several stories which explains how the name "Mirisawetiya" was given to this stupa. The most popular of stories is the one which says that King Dutugemunu forgot to serve a food made of chilli (miris) for the Buddhist priests, before he consumed it. He named this stupa "Mirisawetiya" as a token of apology for the priests.
According to another story, "Mirisawetiya" is the name of an ancient village in which the stupa was built.
Yet another story says that King Dutugemunu left for a water festival, after he was congregated as king, leaving his sceptre which had a sacred relic of Lord Buddha inside. When he returned from the festival the sceptre was stuck and could not be removed. Consequently, seeing this miracle, the king built a dagaba at this location.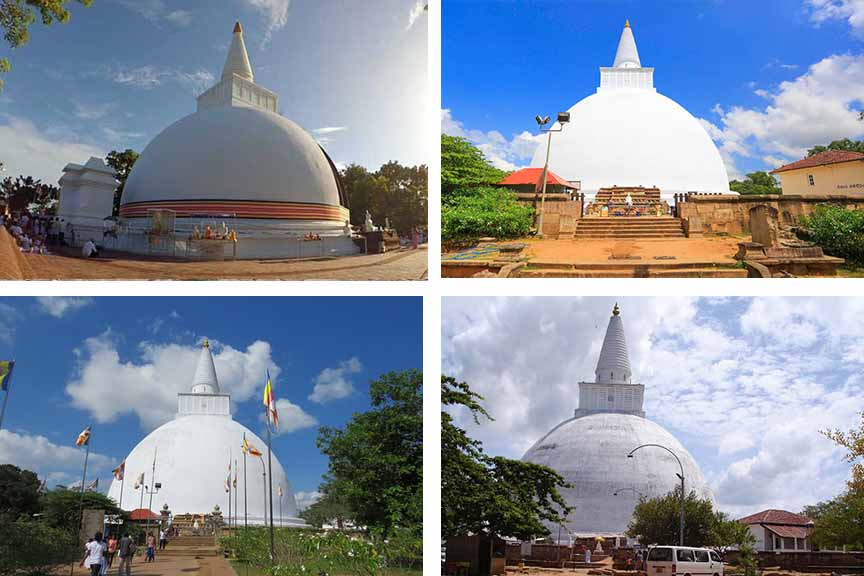 Getting to Mirisawetiya Stupa
From Anuradhapura travel along the Puttalam – Anuradhapura – Trincomalee Highway and New Elkatuwa Road to reach the Mirisawetiya Stupa which is situated along Old Puttalam Road in Anuradhapura.
Google Location