Distance from Kandy – 39.6 km (1 hour 50 minutes)
Knuckles Mountain Range in the central province of Sri Lanka, lies in the districts of Matale and Kandy. It gets its name since its peaks resemble the knuckles of clenched fists when viewed from certain locations in the Kandy district. This name is given to the mountain range by British surveyors. The Sinhalese residents call it "Dumbara Kanduvetiya" which translates to mist-laden mountain range. The area is popular for a wide variety of flora and fauna out of which some are endemic. The higher mountain peaks are often laid over by thick layers of cloud.
The Knuckles Mountain Range is a UNESCO heritage site and is one of the most popular hiking spots in Sri Lanka. It consists of 34 mystical mountains which range from 900 meters to 2000 meters. The Knuckles Mountain Range is known to be the hardest and toughest hiking spots in Sri Lanka and should only be attempted by those who are experienced at hiking.
The most popular hiking trails of the Knuckles Mountain Range are the Dothalugala nature trail, the nature trail that leads to Nitro Caves, a large cave inhabited by hundreds of bats, the trail to Mini World's End and the Duwili Ella trail.
Pro Tips
There are many streams in the mountain range which are extremely safe to drink. So bring water bottles so that you can refill them frequently.
The Knuckles Mountain Range is full of leeches so make sure to bring your anti-leech socks along with you. Anti-leech socks prove to work much better than anti-leech spray because it is always raining in this area and the water is sure to wash away the spray only to end up not being useful at all.
Getting to Knuckles Mountain Range
From Kandy take the Katugastota – Madawala – Bambarella Road and go past Polgolla, Panwila and Huluganga up until you reach Matale. From there turn to Saree Ella Water Fall Road and travel about 3 km down this road to reach the Sri Lanka Eco Camping Knuckles Mountain Range.
However there are three routes to the Knuckles Mountain Range from a trekker's point of view.
Take the A26 highway connecting Kandy with Padiyathalawa, running east of Kandy to Hunnsgiriya. At Hunnasiriya, the road leads to the Corbett's Gap which opens up to amazing views of the Knuckles Mountain Range. From Corbett's Gap travel the road that leads to the village of Meemure. This route can be travelled by a vehicle having good ground clearance.
Trekkers can also take the route from Matale via Rattota and Riversten and the route from Wattegama via Panwila.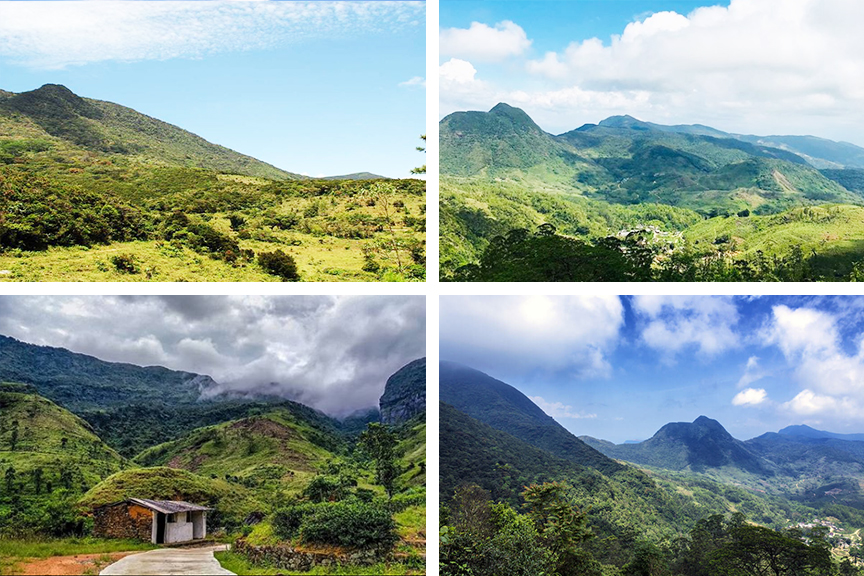 Google Location