Distance from Anuradhapura – 20.6 km (27 minutes)
Introduction to Kaludiya Pokuna
Kaludiya Pokuna is a pond situated in Mihintale, Anuradhapura. It bears signs of being one of the earliest hydraulic civilizations of the Sinhalese kingdom. The Kaludiya Pokuna is one of the three remaining ponds and waterways which exist up-to-date in the area. The pond, situated at the foot of the western slopes of Mihintale, is surrounded by what is believed to be the remains of a stupa and monastery. The pond gets its name because it appears dark most of the time due to the reflections of trees and shrubs from the adjacent forests.
Historical significance of Kaludiya Pokuna
Kaludiya Pokuna is the largest of the three ponds which exist at this location up to date. The other two remaining ponds, out of the many waterways and ponds to have been in existence in the area, are the Sinha Pokuna and Naga Pokuna. Historical experts believe that Kaludiya Pokuna is the "Porodini Pokuna" which is mentioned in ancient historical references.
Ruins found around Kaludiya Pokuna
Remains of an 'aarama' is seen today near the Kaludiya Pokuna. This location is believed to have housed a large number of monks, back in the day. A cave is also found in the vicinity of the pond. Another popular historical attraction named "Rajagiri Lena" is located nearby.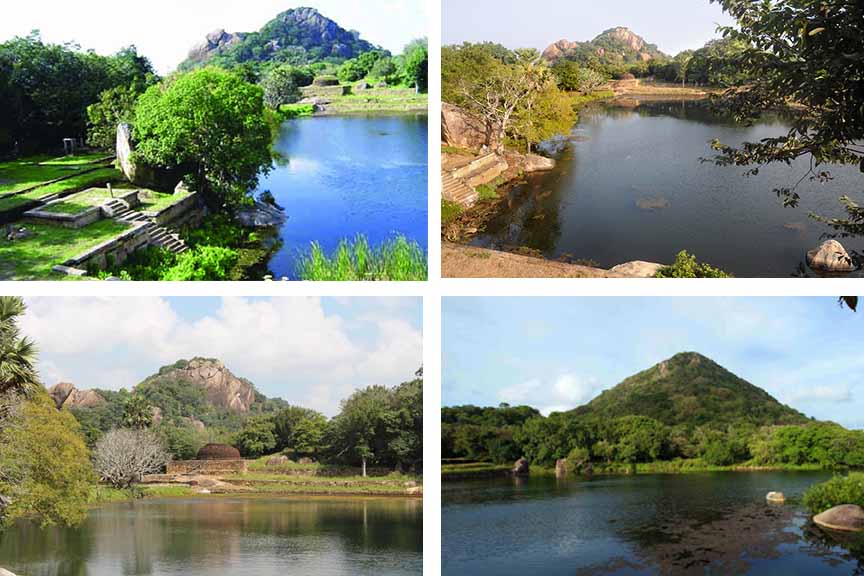 Getting to Kaludiya Pokuna
From Anuradhapura travel along the Galkulama – Anuradhapura Road and the Kandy – Jaffna Highway passing Galkulama up to Mihintale to reach the Kaludiya Pokuna which is situated in Mihintale.
Google Location