Distance from Anuradhapura – 55.3 km (1 hour 13 minutes)
Introduction to Kala Wewa
Kala Wewa is one of the greatest irrigation tanks of ancient Sri Lanka and is situated in Kekirawa in North-central Sri Lanka. The tank was built by King Datusena during his reign in the kingdom of Anuradhapura in 460 AD. After the completion of Kala Wewa, it is said that the king built another tank called Balalu Wewa and joined the two making it one of the largest tanks in Sri Lankan history. Due to this reason, the tank is sometimes called Kala Balalu Wewa. The famous Aukana Buddha Statue, which was also built by King Datusena, stands close to Kala Wewa.
Capacity and Size of Kala Wewa
Kala Wewa has a capacity of 123 million cubic meters and spreads over an area of 18.1 square km. The ancient spill of this tank, built using hammered granite, is 52 m in length and 66 m in width. This width is more than three quarters the size of a soccer field. The British were left awestruck by the superiority of Kala Wewa which was built many centuries ago.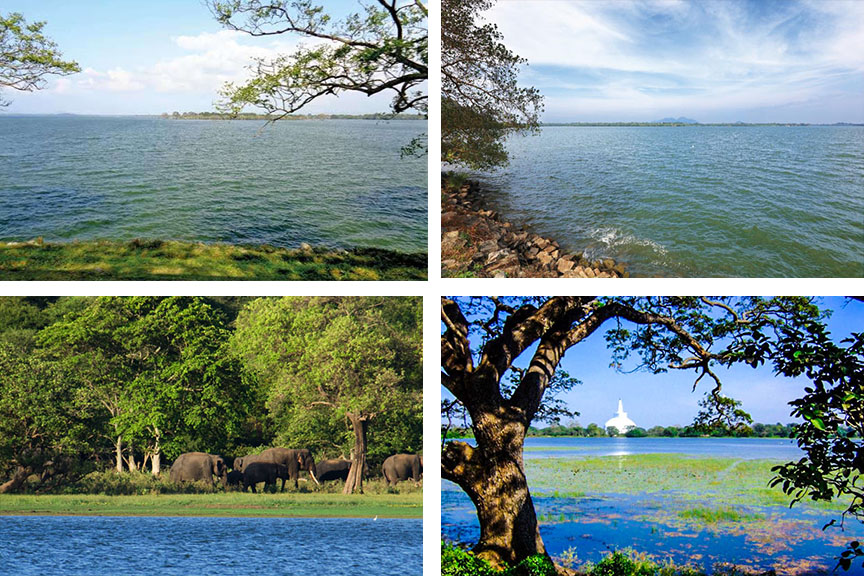 Getting to Kala Wewa
From Anuradhapura travel along the Kandy – Jaffna Highway, Talawa Road and Thoniyagala – Kalawewa – Galewela Road passing Galkulama, Tirappane, Maradankadawala and Thoniyagala up to Kekirawa to reach the Kala Wewa.
Google Location