Distance from Anuradhapura – 4.5 km (8 minutes)
Introduction to Isurumuniya Temple
Isurumuniya Temple is an ancient Buddhist temple which is situated in the historic city of Anuradhapura. It was built by King Devanampiyatissa during his reign from 307 BC to 267 BC. The temple is situated adjacent to the Tissa Wewa which was also built during his reign. Isurumuniya is popular for rock carvings of special interest, namely the famed Isurumuniya Lovers, Man with a Horse, Elephant Pond and The Royal Family. Isurumuniya is believed to be the birth place of King Ravana and the place where the mythical Pulasthi Rishi used to live.
Rock Carvings at Isurumuniya Temple
The 6th century Gupta style carving of "Isurumuniya Lovers" or "Isurumuniya Pem Yuwala", are believed to be of King Dutugemunu's son Saliya and his maiden of low caste, Ashokamala. The prince is believed to have given up the throne for her.
The 8th century Gupta style carving of the Royal Family consists of five humans carved on a granite plate. The figure at the center is believed to be of King Dutugemunu.
The 7th century Pallawa style Elephant Pond carving consists of four elephants carved on granite. The carving depicts the elephants bathing.
The Man with a Horse sculpture depicts a dignified, well-clad man along with the head of a horse beside him. Several critics have come forward with various theories with regard to the sculpture. Renowned Archaeologist Professor Senarath Paranavitana has put forward the theory of the man being 'Parjanya', God of Rain and the horse 'Agni' (fire).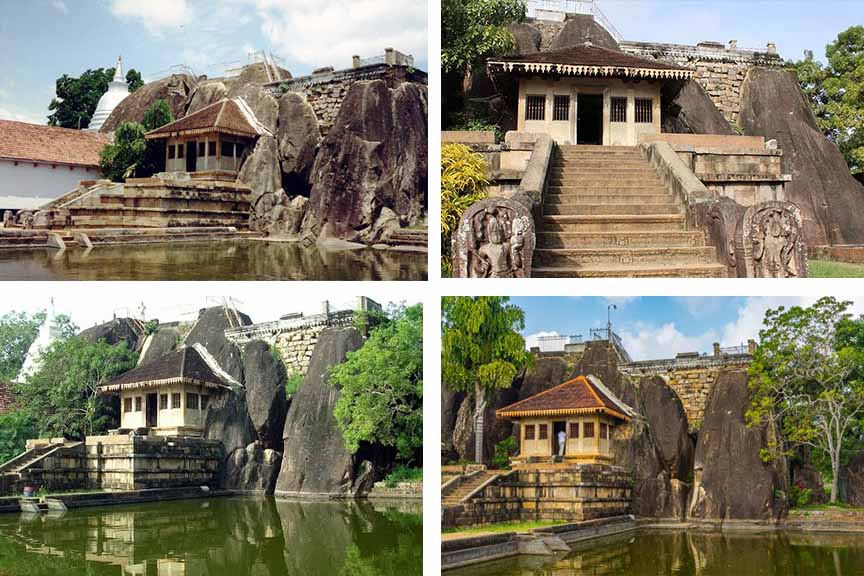 Getting to Isurumuniya Temple
From Anuradhapura travel along the Puttalam – Anuradhapura – Trincomalee Highway, Sri Saranankara Sangarakkitha Mawatha and Bandaranaike Mawatha to reach the Isurumuniya Temple in Anuradhapura.
Google Location