Distance from Colombo – 2.2 km (8 minutes)
Brief introduction to Gangaramaya Temple
The Gangaramaya Temple is one of the most important temples in Colombo and is situated in Colombo 02. It is a temple with a mix of Sri Lankan, Indian, Chinese and modern architecture. The temple is a popular tourist attraction as well. Apart from the common features of a Buddhist temple it also has a library, educational halls, a residential hall, a pirivena and an alms hall. Completed in the 19th century the temple was founded by the famous Buddhist monk of Sri Lanka, Hikkaduwe Sri Sumangala Thero.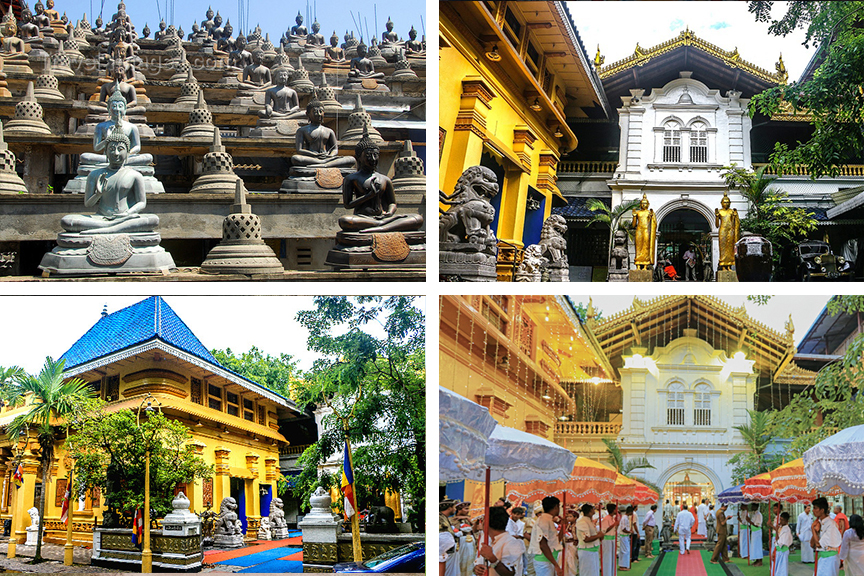 Features of Gangaramaya Temple
The Gangaramaya Temple has the main features of a vihara (temple), pagoda, vihara mandiraya, bodhi tree, seema malaka which is an assembly hall for monks and the relic chamber. A unique feature of this temple which attracts many tourists is the architecture of the seema malaka. It was built to the design of famed architect Geoffrey Bawa with donations received from a Muslim sponsor.
Getting to Gangaramaya Temple
From Colombo travel approximately 2.2 km along T. B. Jayah Mawatha, Union Place, Dawson Street, Braybrooke Place and finally turn to Sri Jinarathana Road to reach the Gangaramaya Temple.
Google Location