Distance from Colombo – 4.1 km (8 minutes)
Introduction to Galle Face Green
The Galle Face Green is a 12 acres urban park stretching 500 meters along the coast. It is situated in the heart of Colombo surrounded by a large business area. Initially the Galle Face Green was used for horse racing, golf, cricket, rugby, football and tennis. At present it is used as a large open space between the Galle Road and the Indian Ocean for people to come and have fun under the open skies. There are various food vendors selling cooked crabs and prawns, slices of mango with pepper and salt etc. along the area. It is situated facing a majority of five star hotels in Colombo.
History of Galle Face Green
The Galle Face Green was initially laid out by the then Governor Sir Henry George Ward in 1859. The original Galle Face Green was extended over a much larger area than what is seen today. It was initially laid out by the Dutch in order to enable their cannons a strategic line of fire against the enemies, the Portuguese.
The Galle Face Green is maintained and administered by the Urban Development Authority of Sri Lanka (UDA).
The Galle Face Green has also hosted the world's tallest artificial Christmas tree, on 25th December 2016.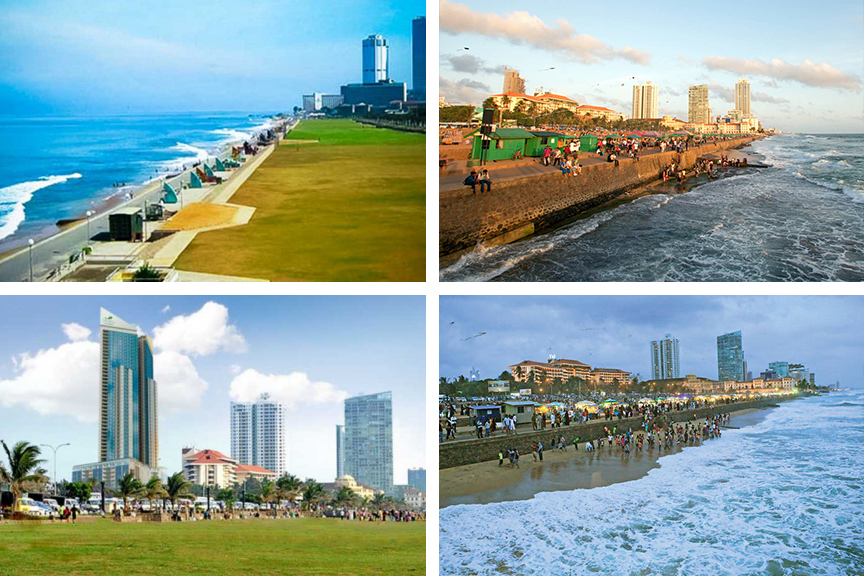 Getting to Galle Face Green
From Colombo travel approximately 1.6 km along the Colombo – Galle Main Road to reach the Galle Face Green.
Google Location