Distance from Kandy – 16.9 km (41 minutes)
Introduction to Embekka Devalaya
The Embekka Devalaya is a temple dedicated for the worship of Lord Kataragama. It is situated in Udunuwara, Kandy on the Dalugala road where the Gadaladeniya Temple is situated. The Embekka Devalaya can be visited along with the Gadaladeniya and Lankathilake temples as they are all located close by. It is a temple famed for its carvings and wood work. The temple was built by King Vikramabahu of the Gampola era back in the 14th century. It has three sections namely the "Sanctum of Garagha", "Digge" or "Dancing Hall" and the "Hevisi Mandapaya" or "Drummer's Hall".
Unique features of Embekka Devalaya
Apart from Lord Kataragama a local deity called Devatha Bandara is also worshiped at Embekka Devalaya. The Drummer's Hall is popular among visitors to the temple due to the fine wood carvings of its ornate pillars and its high pitched roof. These are some of the best examples of Sinhalese artwork. A unique feature of Embekka Devalaya is the "Madol Kurupawa" which is like a large catch pin used to keep all the rafters, which slant from above towards the incoming visitor, fixed together.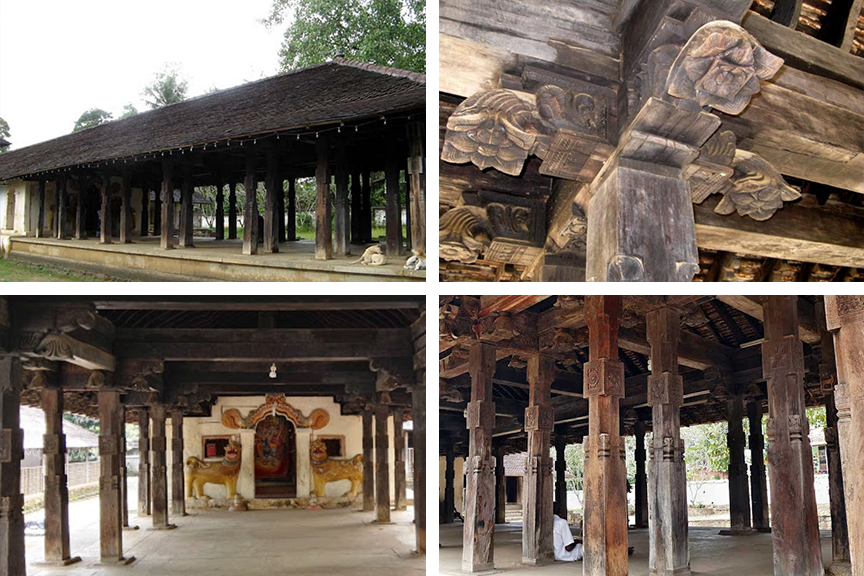 Getting to Embekka Devalaya
From Kandy travel along the Colombo – Kandy Road passing Peradeniya and Mampitiya up to Daulagala. Go along the Embekka – Pilimatalawa Road to reach the Embekka Devalaya.
Google Location