Distance from Colombo – 55.4 km (1 hour 51 minutes)
Dunumala Waterfall is situated in Uduwaka town of Avissawella in the Gampaha district. Hence it is also known as "Uduwaka Ella" and "Alawala Devin Panna Ella". It stands at a height of 45 meters. The area surrounding the falls bears historical and legendary importance.
There are three large caves near the Dunumala Waterfall of one which stretches for a distance of about 0.5 km. The local villagers believe that the nearby town of Ratnapura can be reached through it. Sri Lanka's King Vijayabahu III is said to have made a home of two of these caves. According to Folklore, the ashes of Sri Lanka's ancient King Parakamabahu II, are said to be enshrined in the Dambadeni Seya Stupa which is located in the Attanagalla Raja Maha Viharaya nearby.
Continuing with folklore and ancient royal stories, it is said that three ancient queens have used five holes that are found in a rock close to the Dunumala Waterfall, to play the indigenous game known as Pancha. Local villagers say that the streams which serve the Dunumala Waterfall have never dried up even in the worst of droughts. A deep pool known as Alipalawalla, which is located close to the Dunumala Waterfall, was used hundreds of years ago to bathe elephants.
On a lighter note, bearing all its historical importance, the popular Sinhala film "Siri Perakum" had been shot at the location near Dunumala Waterfall.
Getting to Dunumala Waterfall
From Colombo take the Colombo – Kandy Road and go past Kiribathgoda, Mudungoda, Gampaha, Kalagedihena, Nittambuwa, Pasyala, Algama up until you reach Uduwaka. Go down the Algama – Uduwaka Road to find the Dunumala Waterfall.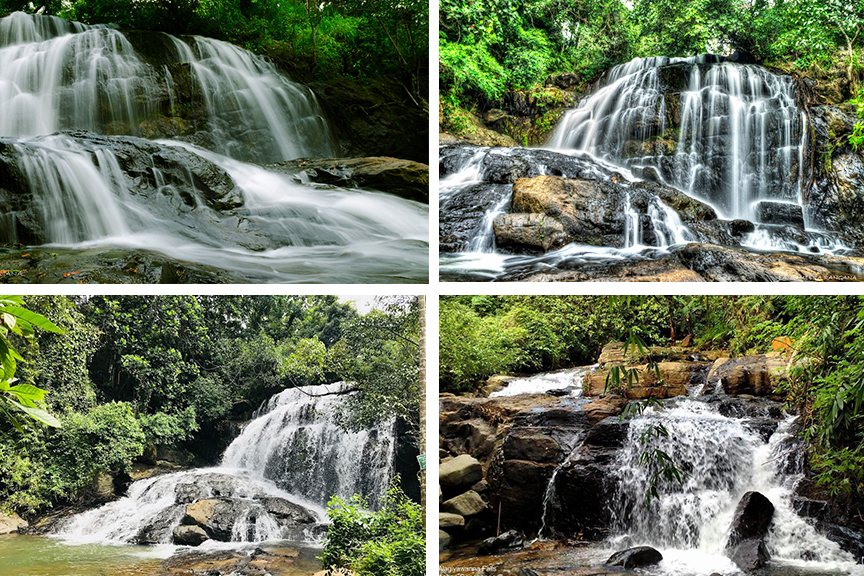 Google Location