Lotus Tower
Distance from Colombo – 4.4 km (10 minutes)
Colombo Lotus Tower is a 350 meters high tower located in D.R. Wijewardena Mawatha (McCallum Road) in Colombo 10. The lotus-shaped tower was officially declared open on 16th September 2019. It is the tallest completed tower in South Asia and the second tallest structure in South Asia just coming behind the INS Kattabomman in India. It is also the 11th tallest completed tower in Asia and the 19th tallest completed tower in the world. The tower which is visible throughout Colombo and its suburbs, will be used for observation, communication and various other leisure activities. It includes a telecommunications museum, hotel, restaurants, auditorium, and an observation deck. It will function primarily as a radio/television and telecom transmission hub with a secondary tourism and entertainment function. It gives a panoramic view of the entire city of Colombo.
The tower house represents the shape of a blossoming lotus. The lotus is a symbol of purity and is said to symbolize the flourishing development of the country. The tower base is designed according to the lotus throne being a symbolic part in Buddhism and the life of the Lord Buddha.
Construction of the Colombo Lotus Tower was funded by the People's Republic of China. The tower is visible from anywhere in Colombo, its suburbs and most major highways from and around Colombo city. It was first proposed to be built in the suburb of Peliyagoda, but the location was later shifted to a more commercial area in the city of Colombo which is on the waterfront of the Beira Lake. It has 13 floors and 8 elevators altogether. The tower also proudly features the fastest elevator in South Asia. It is said to include a spacious parking area with parking capacity for over 200 vehicles.
The Colombo Lotus Tower consists of 4 parts which are the Mast, Tower House, Tower Body/Tower Shaft and Tower Base/Tower Podium. There are 4 entrances to the tower out of which 2 entrances are VIP entrances. The entrance to each floor is controlled by access cards and an access card for one floor cannot be used to enter any other floor of the tower. Following is the way the floors have been arranged in the Colombo Lotus Tower.
Tower Base/ Tower Podium
Basement floor – Distribution room, diesel generator room, kitchen, refrigeration plant room, domestic water pool and pump room
1st floor – Entrance hall, VIP lounges and shopping area
2nd floor – Telecom museum, folk custom museum, exhibition hall and visitor area
3rd floor – Meeting centre and administration office of the tower
4th floor (Roof floor of the Tower Podium) – Water tank room and staircase
Tower Body/ Tower Shaft
The Tower Body/ Tower Shaft is 200 meters in height and consists of 8 elevators and stairs to get you up the Lotus Tower. There are 3 high speed elevators, 2 medium speed elevators and 3 slow speed elevators.
Tower House
1st floor – TV transmitter plant and control rooms
2nd floor – Radio transmitter plant and control rooms
3rd floor – Banquet hall
4th floor – Banquet hall with a capacity of accommodating 1000 guests
5th floor – Revolving restaurant
6th floor – VIP rooms
7th floor – Observation deck. This is the world's first ever open air observation deck on a tower
8th floor – A/C outdoor plant room and elevator plant room
The Mast
The Mast divides into four sections consisting of TV, FM and other telecommunication antennas for television services, FM radio stations and telecommunication service providers.
The colours of the lotus petals of the tower house change periodically. It consists of approximately 20,000 LED bulbs and is a beautiful sight to see especially at night. The tower's color is planned to alternate between pink and light yellow by smooth transition which is an effect achieved by coating the glass. During festive seasons the tower will have appropriate decorations displayed on it.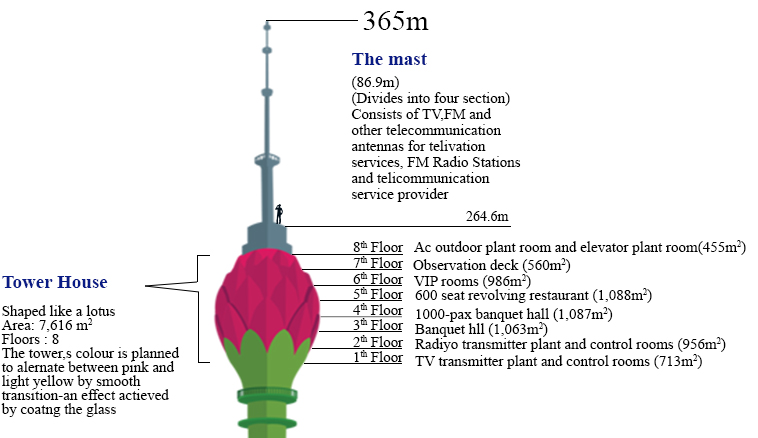 ---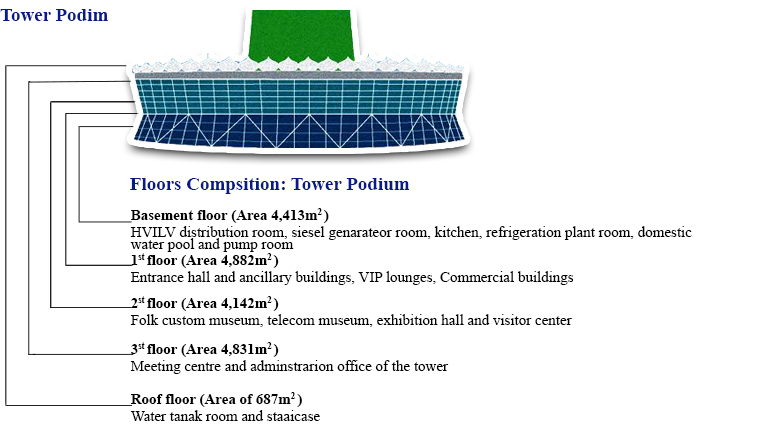 Getting to Colombo Lotus Tower
From Colombo head west on McCallum Road towards Kovil Veediya to find the Colombo Lotus Tower.
Google Location