Distance from Kandy – 36.3 km (1 hour 15 minutes)
Introduction to Bible Rock
The Bible Rock, also known as Bathalegala in Sinhala, is a mountain situated in the Aranayake region of the Kegalle district. The mountain gets its name due to its surface closely resembling a book/ bible. The prominent flat top surface of the Bible Rock also closely resembles the Sigiriya Rock. Bible Rock is clearly visible to anyone travelling from Colombo to Kandy, especially by train.
Bible Rock and its surroundings
The Bible Rock, named adequately by the British, is a popular hiking spot among locals and foreigners. It stands at a height of approximately 797.7 m and spans across a breadth of 710 m. It is clearly visible at the Kadugannawa Pass when travelling along the Kandy Road. The summit of the rock consist of an abandoned temple with a small stupa and shrine room. The summit also provides excellent views of Ambuluwawa Mountain, Asupini Ella, Kabaragala and Sri Pada.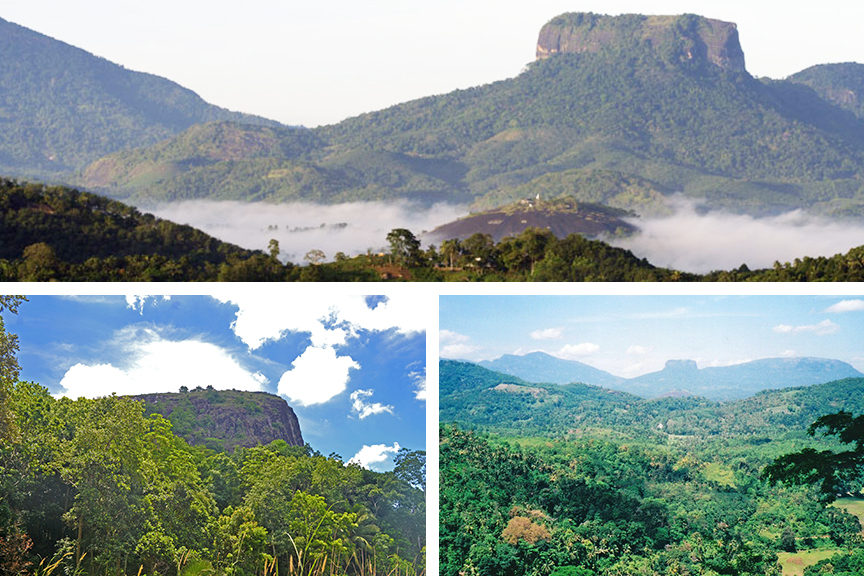 Getting to Bible Rock
From Kandy take the Colombo – Kandy Road and go past Peradeniya, Mawanella and Ussapitiya up until Aranayake. Travel up to Gevilipitiya and turn to Gewilipitiya-Hettimulla Road. Go along this route to find the Bible Rock.
Google Location