Distance from Kalpitiya – 1.9 km (7 minutes) on land + 50 km (3 hours and 30 minutes) on sea
Baththalangunduwa
Baththalangunduwa is an island which is located off the north-western coast of Sri Lanka and is accessible from Kalpitiya. It is approximately a 50 km journey on boat from Kalpitiya which normally takes about 3.5 hours. There are 14 islands on the north-western coast of Sri Lanka. Baththalangunduwa is the farthest and second largest of these archipelagos. It is a beautiful island which is ideal for beach camping.
Boat ride to Baththalangunduwa
Baththalangunduwa covers a land area of 145.53 hectares. The boat ride from Kalpitiya to Baththalangunduwa consists of amazing views. Passengers can get in to one of the two boats which leaves the Kalpitiya jetty at 8.30 am. This usually costs approximately 250 LKR per person. Visitors can reserve special boats with comfortable seating, at a higher price.
Baththalangunduwa beach camping
The best time to visit Baththalangunduwa is from December to April when the sea is calm. The sea gets rough from May to October and in November. Baththalangunduwa beach camping offers picturesque views of the sunset surrounded by the cool ocean breeze. Apart from beach camping it is also a popular place for sightseeing, capturing amazing photographs and enjoying nature.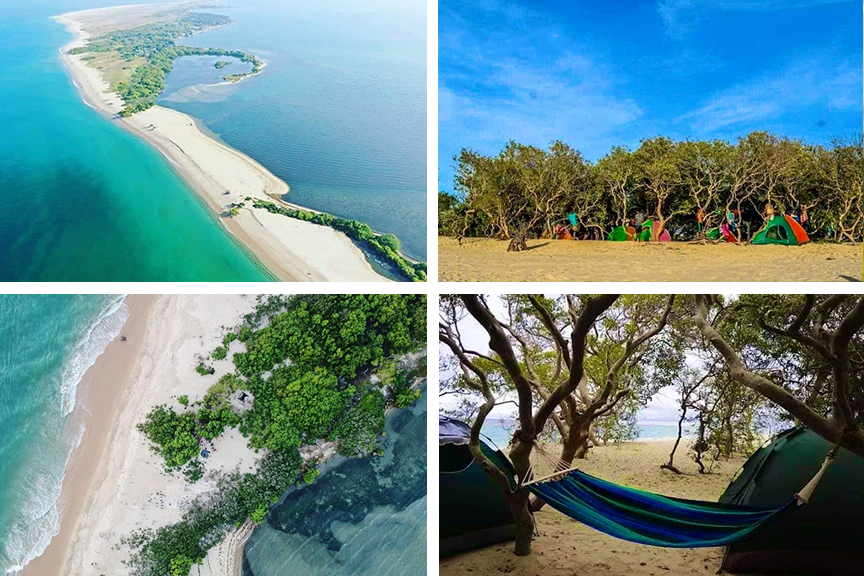 Getting to Baththalangunduwa
From Kalpitiya travel approximately 1.9 km along the Palavi-Kalpitiya Road up to the point where the Baththalangunduwa boat tour begins to reach Baththalangunduwa, which is an island located about 50 km from this point.
Google Location