Distance from Anuradhapura – 19.4 km (31 minutes)
Introduction to Aradhana Gala
Aradhana Gala is a rock which is situated in Mihintale, to the east of Anuradhapura. It is a very important religious site for Buddhists in Sri Lanka. It is the exact place where Mihindu Thero first met and preached Buddhism to King Devanampiyatissa on Poson Poya Day. Today, a large number of Buddhists in Sri Lanka gather at this place every year on Poson Poya Day to observe religious rites in order to celebrate the birth of Buddhism in Sri Lanka.
History of Aradhana Gala
Mihindu, also known by the Indian name of "Mahinda", was the son of the great emperor of India, King Ashoka. The king was inspired by a young monk and was captivated by his simplistic outlook of life. This inspired the king to follow the route of peace rather than war. As a result, his son and daughter followed in the path of Buddhism and was enlightened as Arahath. King Ashoka sent his son Mihindu Thero to Sri Lanka where his friend Kind Devanampiyatissa was ruling. The Lankan king met Mihindu Thero at Aradhana Gala in Mihintale on a Poson Poya Day, which is considered as a very sacred day in Sri Lanka. "Mihintale" translates to "Plateau of Mihindu".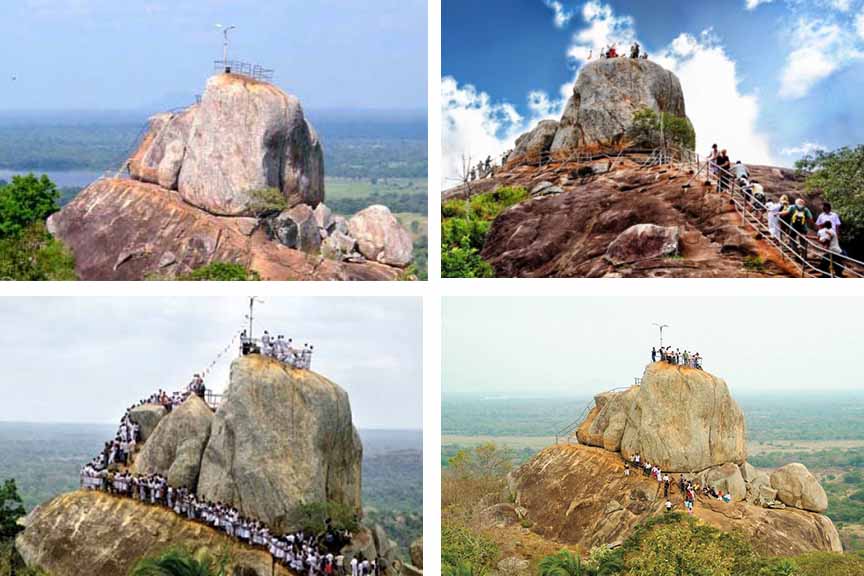 Getting to Aradhana Gala
From Anuradhapura travel along the Puttalam – Anuradhapura – Trincomalee Highway up to Mihintale to reach the Aradhana Gala in Mihintale.
Google Location