Distance from Anuradhapura – 9.6 km (18 minutes)
Introduction to Anuradhapura Sandakada Pahana
Anuradhapura Sandakada Pahana (Moonstone) is a unique feature of the Sinhala architecture in ancient Sri Lanka which is usually found at the bottom of staircases and entrances. It is a finely carved semi-circular stone slab and symbolises the cycle of Saṃsāra in Buddhism according to historians. Initially, the Sandakada Pahana was placed at the entrances to Buddhist temples during the latter stages of the Anuradhapura period.
Features of Anuradhapura Sandakada Pahana
Anuradhapura Sandakada Pahana is an intricately carved semi-circular slab made of stone. It consists of a half lotus carved in the center. This is followed by several bands, each carved with animals such as elephants, lions, horses and bulls. The four animals are said to represent the four noble truths in Buddhism or the four stages of life (birth, old age, disease and death).
Sandakada Pahana has been a main feature of architecture throughout the Anuradhapura, Polonnaruwa, Kandy and Gampola periods. However, the bull has not been featured in the Sandakada Pahana of the Polonnaruwa period due to due to the strong influence of Hinduism during this era.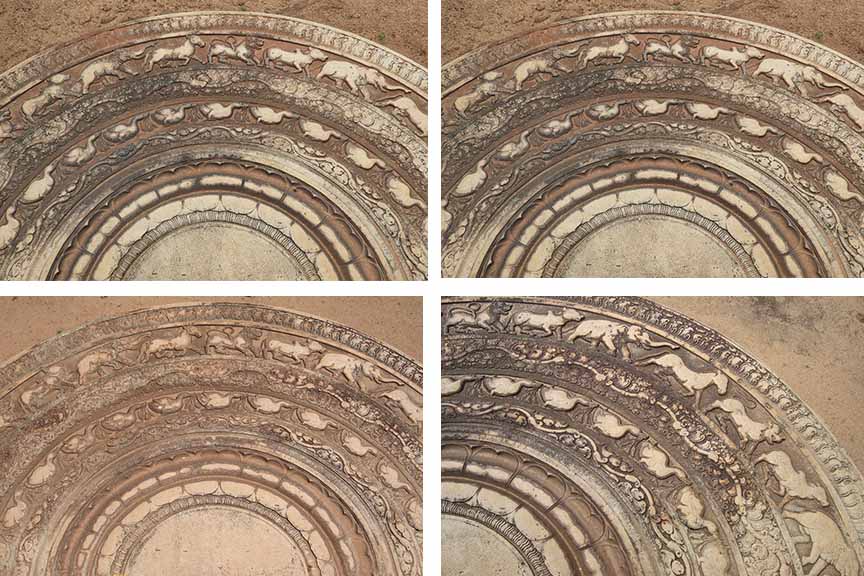 Getting to Anuradhapura Sandakada Pahana
From Anuradhapura travel along the Puttalam – Anuradhapura – Trincomalee Highway and turn to Watawandana Road to reach the Anuradhapura Sandakada Pahana.
Google Location