Distance from Anuradhapura – 9.3 km (19 minutes)
Introduction to Abhayagiri Stupa
Abhayagiri Stupa is one of the most important Buddhist stupas situated in Anuradhapura. The stupa is part of the Abhayagiri Monastery which is a major site for Theravada, Mahayana and Vajrayana Buddhism. The stupa was built by King Walagamba during his second reign in the kingdom of Anuradhapura from 89 to 77 BC. Abhayagiri Stupa belongs to the "Atamasthana" of Anuradhapura.
History of Abhayagiri Stupa
King Walagamba was defeated by seven Tamil chiefs who landed at Mahatittha with a great army. King Walgamba asked a young Brahmin named Tiya to fight against them. The latter accepted the challenge but was ultimately defeated by them. This made the King flee from the city which was seen by a Jain monk named 'Giri' who then exclaimed, "The great black Sinhalese is fleeing". King Walagamba made a pledge to himself that he would build a vihara there if he ever came back as king.
Walagamba, also known as "Wattagamini Abhaya", came back to Anuradhapura in 89 BC to fight the last Tamil king Bhathiya, after fourteen years of hiding in the mountain region. He defeated the latter and built his kingdom yet again in Anuradhapura. As promised to himself, the king built the Abhayagiri Stupa which is regarded as an important religious site by Buddhists in Sri Lanka.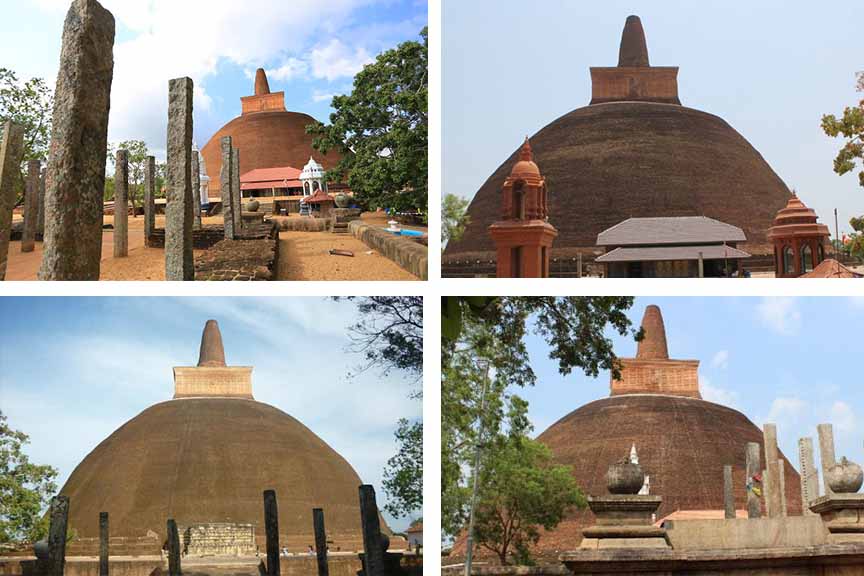 Getting to Abhayagiri Stupa
From Anuradhapura travel along the Puttalam – Anuradhapura – Trincomalee Highway and turn to Watawandana Road to reach the Abhayagiri Stupa in Anuradhapura.
Google Location